Recycling Application pools in IIS for SharePoint 2010
| | |
| --- | --- |
| This post discuss about recycling application pools when memory limits are exceeded. Recycling based on memory limits is not necessary in 64-bit environment. It is suggested that recycling should not be enabled in 64-bit environment. Unnecessary recycling can result in dropping in user requests and performance. | |
Note: When application memory limits are exceeding then change the recycle settings in Internet Information Services(IIS).
1. Make sure that you are a member of Farm Administrators group.
2. Open SharePoint Central administration website. Click Review problems and solutions in Monitor section.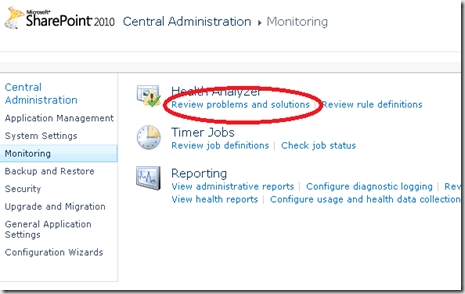 Pick the name of the server from Failing Servers column as shown below

3. Now login to the server, open the Internet Information Services (IIS) manager from Administrative tools.
4. Select the application pool that your SharePoint site is using from the list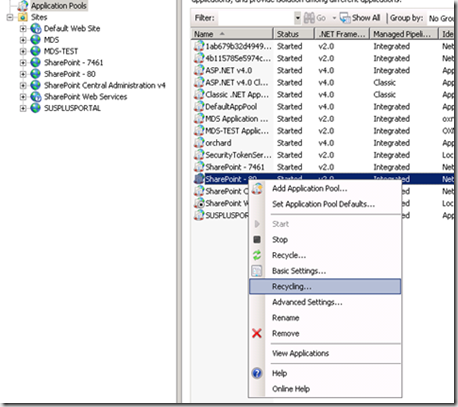 5. Right click the Application pool and say Recycling
6. Enter the desired values in the Application Pool Recycling Settings window and click next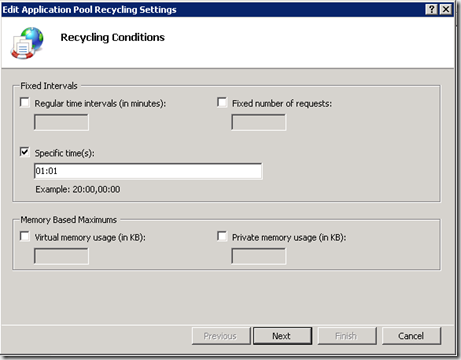 clear the Virtual memory usage and primary memory usage in Memory Based Maximums section. click finish in Recycling events dialogue box