| | |
| --- | --- |
| This post discuss about performing farm backup in SharePoint 2010 using central administration.You can do variety of backup operations using Backup tree on the perform a Backup page. To perform the farm backup | |
1. Click the Backup and Restore from Quick launch in central administration in SharePoint
2. Click the Perform a backup link under Farm Backup and Restore section
You can find the Backup job running status under readiness section and it also shows the backup and restore jobs that are in progress
3. Select the component from backup tree and select the items that you want to backup. To backup the entire farm select farm select box or you can limit the options to web applications, databases and other components.
Click next from the above window
4. Select the backup type option from the below dialogue box. Depending on the requirement select differential or full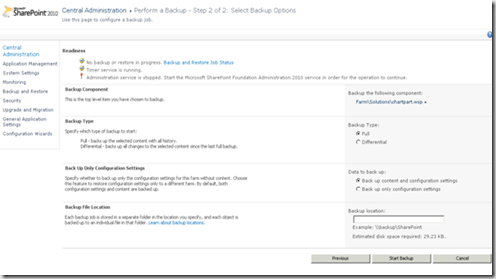 Differential backup backs up the data that created or changed from the last backup. From the Backup only configuration settings you choose either backup content and configuration settings or backup only configuration settings.
In the back file location, specifies the file location and path.
Click the StartBackup button to start the backup operation. Once you click the button backup status page will open with information