Managing Content and Documents in SharePoint 2010
| | |
| --- | --- |
| This post explains some of the changes in content and document management in Document Center web site  in SharePoint 2010 server. You can effectively manage the content and store large number of documents in SharePoint 2010 document center website. | |
Typical Document Center web site looks as follows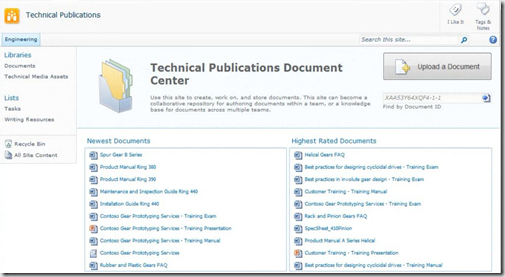 You can find some really useful things in document center web site. At a glance
on home page of the web site you can find different content query web parts which contain document based different criteria like Newest Documents, Highly rated documents etc. These lists basically contains views or queries for the documents that stored on your web site.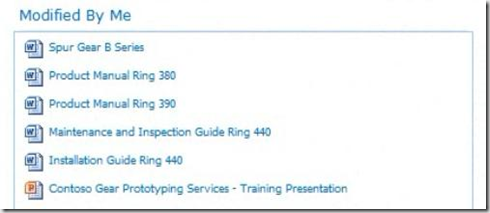 For example, Modified By Me web part which always shows your last updated documents and very useful to find in one place to carry further changes.
You can simply upload a document by using Upload document button. Each document in document center has assigned an unique id and you can search documents using this id. Document id is a new feature in SharePoint 2010, this will be automatically assigned to the document as soon as it is created.
Rating the documents is a new feature in SharePoint 2010. You can flag and find the useful content on the web site.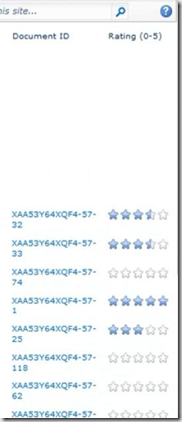 Enterprise Metadata column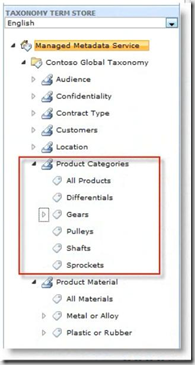 This column is enterprise Managed metadata column which is a new feature in SharePoint 2010.Taxonomies are created for the meta data columns in document library.Taxonomies are a hierarchical way of organising and classifying information.
You can find the metadata navigation in document center website which is a manifest for the metadata.It is really useful tool to finding the information in large document web sites.
Using Meta data columns, you can easily search the documents from large repository. You can further refine the search by using the filters on meta data tags as shown below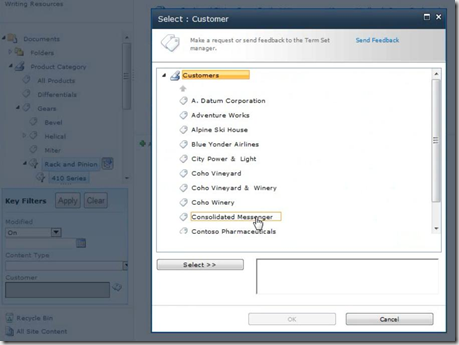 The result will look like the following screen shot

If you closely notice the result the icon which showing in the results is a representation of document set which is a new feature of SharePoint 2001 which I will discuss in the next post
if you imagine document repository containing thousands of items, you can find the items easily if you plan metadata management and taxonomy on your document repository.You do not necessarily depend on folder structure for finding a document instead you can create metadata for the document.
source: Microsoft SharePoint Training material