| | |
| --- | --- |
| General assumption that file-system anti-virus software also scans the SharePoint document libraries. Wrong! It will not detect viruses stored in document libraries so install an antivirus solution for SharePoint. SharePoint does include any type of antivirus protection, you must purchase this separately. This post discuss about available products and configuring the antivirus feature in SharePoint. | |
Some Antivirus Products for SharePoint
Forefront security for SharePoint 2010 – Very advanced antivirus solution for SharePoint.
DocAve Another outstanding antivirus solution for SharePoint.
Symantec Antivirus for Microsoft SharePoint – Popular antivirus solution for SharePoint 2007 that also supports SharePoint 2010.
Configuring the SharePoint Antivirus Feature
To see the configuration settings, Open SharePoint Central Administration and Click Security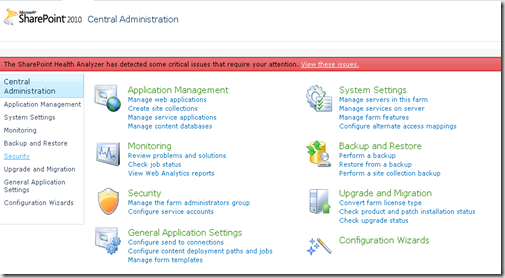 then click Manage antivirus settings as shown below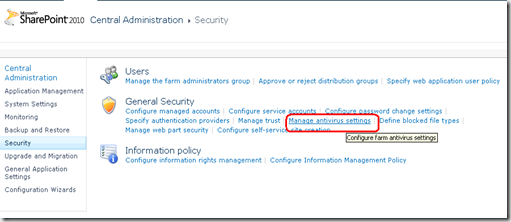 Antivirus Settings – specify when the documents to be scanned and what to do with infected documents
scan document when upload
scan document when download
attempt to clean infected documents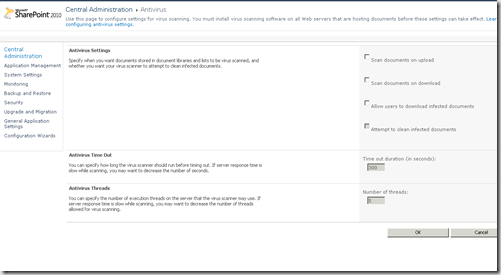 AntiVirus Timeout – specify how long the virus scanner should run before timing out.Use this setting to control the load and performance hit on the server.
Antivirus  Threads – specify the number of execution threads that the antivirus engine may use.
The settings will not affect anything until you install an antivirus solution that is SharePoint integrated.