| | |
| --- | --- |
| This post speaks about themes in SharePoint 2013. Themes engine in SP 2013 has been re-designed and everything is now based on HTML5 instead of proprietary format. You now no longer need to use PowerPoint to create custom themes. You can customize themes in SP 2013 by applying background image, fonts with live preview and color palette. | |
The below are list themes available as out-of box in SharePoint 2013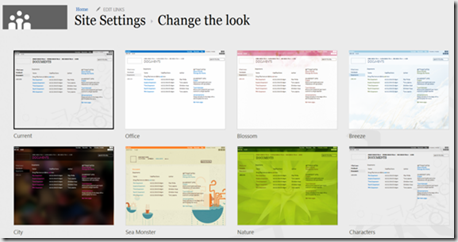 If you click anyone of the above template then you will get more options like applying colors and background image etc.
Theme selection and Configuration page – The below is the screen you will get when you click any one of the theme templates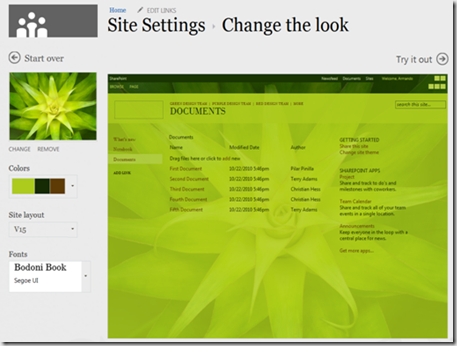 If you have office 13 web component installed then you can drag and drop the image from your computer to set the background for theme. If you do not have office 13 web components installed simply click on the image and upload the file to set the back-ground.
The color wheel below the picture will have default color combinations in the drop-down list.
The layout drop-down allows you to apply different layout options like overlay, v15. Similarly you can select the font-family for your site. Once you are happy with the settings then you can click the link Try it out , when you do that you will see the preview of the site with the selected options.
To change the look and feel of the site you can select what is your style app from home page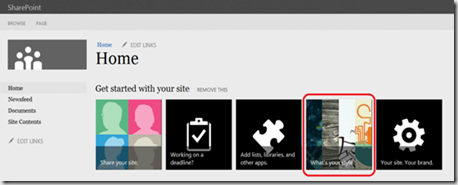 Or using site settings change the site look and feel