This post describes the different useful Data Warehouse terms which are closely associated with Kimbal Data Warehousing approach.
Measure It is a numeric value in reporting and analysis. Example: Price,Balance or Inventory. Measures come from data sources. Measure is characterized by grain.
Dimension A dimension is a collection of related values called members. example: 2008 is a member of Time. It can be described as an "axis of analysis". In a query, dimension can be part of the query result. The most fundamental dimension is Time, which is essential in any context.  Dimensions are typically master data entries.
Hierarchy  A hierarchy reflects the fact that different members of the same dimension represents the different levels of data. Example: a Time dimension might have levels named Year and Month. Year level might have members like 2007 and 2008. Hierarchies occur usually in wide range of applications.
Fact table A Fact table is an associative entity between various dimensions. It contains one or more measure columns and key columns of all related dimensions.
Dimension table A dimension table usually has a minimum of two columns, one representing the key which uniquely defines member of the dimension and another descriptive name for the member.
Star Schema It is based on Entity Relation diagram of a fact table and its related dimension tables.
Grain A characteristic of a measure that is defined in terms of related dimensions.  Example: In Time dimension, the Time grain of the fact table is Month. Overall grain of the fact table is referred as granularity.
Representation of Star Schema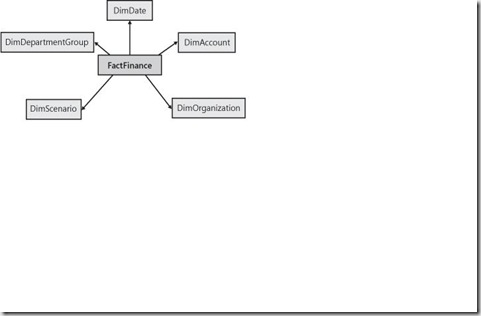 Surrogate Keys A surrogate key is a system-assigned, typically integer, primary key to a table. In SQL server, surrogate key would typically be an identity column.