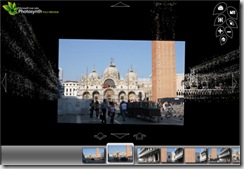 What is Photosynth?
Photosynth is a technology from  Microsoft which takes the collection of pictures of a place or an object, analyzes them for similarities, and displays them in a three-dimensional space.
Features
You can see the photo from any angle.
Seamlessly Zoom in or Zoom out capability.
You can send collection of views of pictures to friends.
You can find similar pictures that you are viewing.
3D View with Photosynth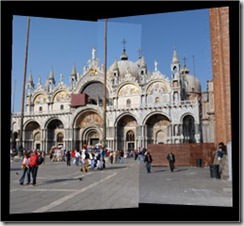 Photosynth provides an interface to view any object in a
picture.
It provides easy controls for exploring a collection of
photos in 3D with single click.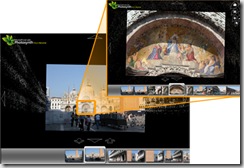 Future versions of Photosynth, you' ill be able to see your
own photographs displayed in 3D.
Smooth digital rendering  and zoom capabilities.
Photosynth future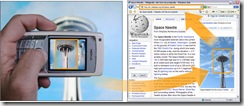 It could make your photos more smarter!!!
It Begins by processing an image and creates a point to
uniquely identify the image. Once you get an image then it
could show you other photos that have similar features to the
one you're currently viewing.
Tags, URL could be applied to an image.
It connects your photographs into a web of images and allowing
you to browse a virtual universe of interconnected scenes.
system requirements
Operating System:Windows XP SP2 and Windows Vista RC1 or later
Web Browser: IE6, IE7, Firefox 1.5 and Firefox 2.0
Memory: 256 MB of memory is a bare minimum; 1GB recommended.
Graphics:support for DirectX 9 graphics with a WDDM driver, 128 MB of graphics memory (minimum), and 32 bits per pixel.
Download & Reference link Phtosynth download