This post outlines the Architecture and Structure of Community Site Features in SharePoint 2013. Social Features that introduced in SharePoint 2013 can be read here. The following are the Features of Social Community site
Discussion and Moderation

Reputation model

Discovery and Membership
Community sites offer a form of experience that categorize and cultivate discussions for a broad group of people within an organization. Community sites promote open communication and information exchange among people who share and leverage their expertise. With Community sites your organization can organize discussion and categories, Visitors can view the discussion and can be members of the site and mark their interests.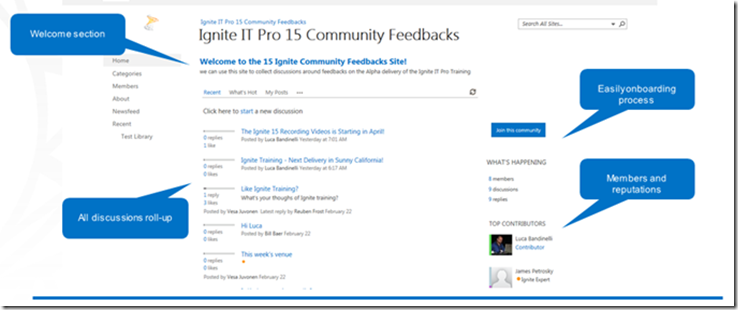 For the readers you can assign badges and for specific members you can assign the badge to visually indicate that member has been recognized for the specific kind of contribution in the community site. Each community site contains the information about members and contribute reputation which members earn when they post some information and when their content is liked.
Communities and Reputations
In a community site conversations are create through discussions and answers. Community members through the activity in a community can earn badges and increase the reputation.
Community is a feature which can activated at site-collection level or site-level. Site definition is also available to simplify community site creation and adoption. All community features such as readings, discussions and member reputations are scoped within the community. People that are members of multiple communities will have different reputation and earn different badges across communities. There is no concept of global reputation.
Communities Design
From designs point-of view Community site can organize in categories that are used in scope conversations and discussions for specific topics. Each presentation page of community site is built based on SharePoint 2013 wiki-page infrastructure which enables you to maintain the content easily without using any web parts.
In community site there are two different types of rating systems
Can vote 1 to 5 stars or likes , Running reputation can be configured by moderator to define the number of points that are required to move to the next level. People can also report "abuse" for a moderator to act upon.
Example of Community categories can be viewed as shown below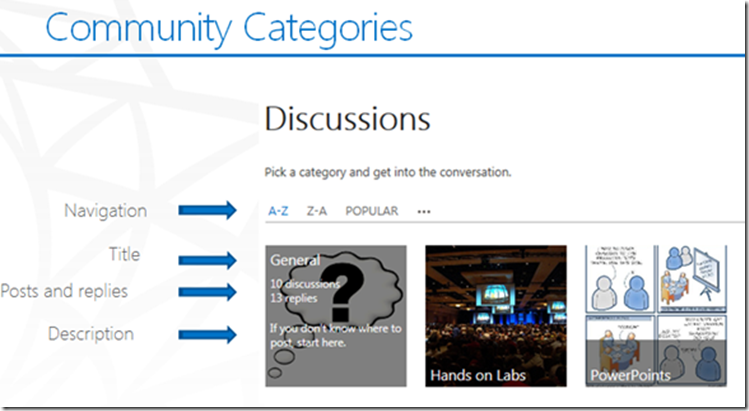 The rich experience allows the end-user to properly understand to pick-up the right category to work with discussions. The categories can be sorted by popularity or by alphabetical order. A mouse over on the category pops up a tile which shows description of the category, number of discussions and replies.
Example of Community discussion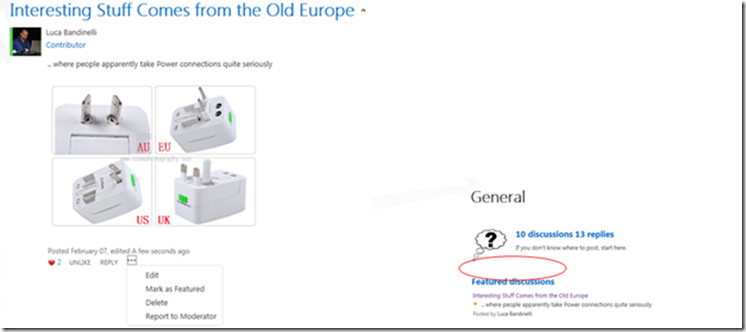 Posting new discussion is very easy operation in community sites. Posting is also a rich experience where rich content and links can be added for your post. Every post can be added or edited by owner or moderator. Every member of the community can like the specific post or can make it as featured and it then renders on the top of its category.
Conversations and replies
Replies also have same level of richness experience of creating new discussions. Replies can happen for main-topic or for other replies. A reply can be reported to moderator. Community moderator can delete or edit the reply. Best reply in specific replies bubbles up and shows it up as the first-reply in the discussion thread.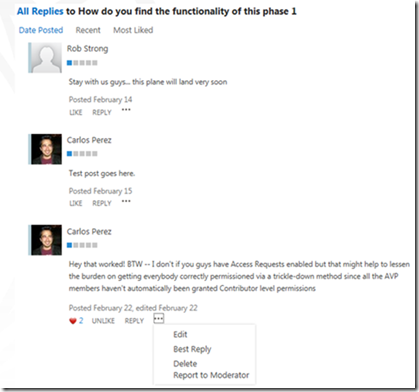 Tools for Community Owners
A set of tools available for owners to manage the community. To access these tools owners can go to the site settings or home page as shown below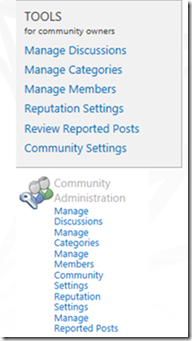 Using these tools moderators can manage categories, discussions and members. Moderators can also control the moderator settings.
Ratings Model and Settings
Two possible options for rating the community sites, stars system or likes system. This setting can be changed at any time. These values are stored in SharePoint content databases. Ratings gives a rich social experience, when you mouse-hover on the rating gives you quick information on
Who rated?

The value of rate

Visual representation for your like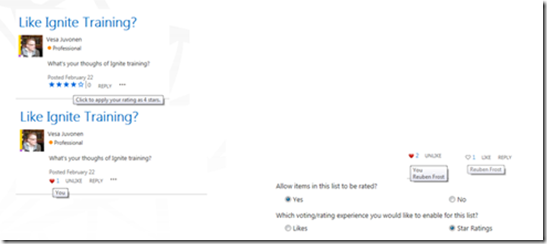 Tracking your reputation
Community members have the direct control on their reputation in a community site. The more they contribute the higher the reputation. Community owners control points for each activity.

Reputation model cannot be extended or new activities cannot be added to the system. Administrators can configure point thresholds that required achieving the reputation rankings.

Badges can be customized in terms of text and cannot be customized for images. In a community site there are two different types of badges
Achieved badges – gained by collecting points by performing specific activities.
Achieved badges can be displayed as a ranking level or specific text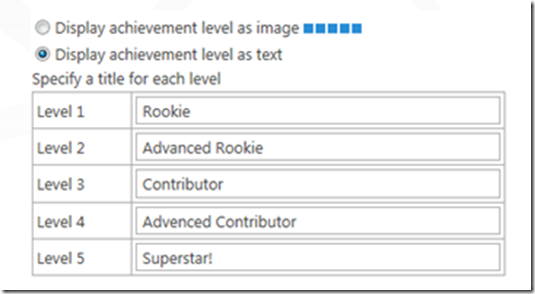 Gifted badges – assigned by community owners to push recognition to member
List of gifted badges can be managed to add or remove badges. Gifted badges are showed in people status and are colored and color is inherited by site theme.

At any time member can go to members list to see all members and rank them by various metrics. People can see their status and what is needed to move to the next level of reputation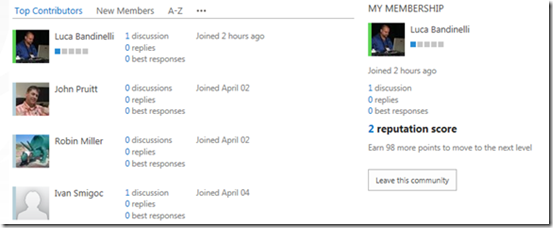 Reference:http://technet.microsoft.com/en-us/sharepoint/fp123606