SSIS Package Configuration in SQL server 2008
SSIS configuration wizard allows you to create configurations for packages. It also allows you to update the properties and objects of the package at run time.
Package Configuration Benefits
Configuration really helps the developers to smoothly move the packages from Development environment to Production environment.
         Eg: Configuring the source path of the file or updating the database
              connection string.
Configurations makes it easier when you deploy the packages over different sql servers.
Using property expressions we can update the value of variable in configuration. More about this can be read here
1. Open the Business Intelligence Development Studio from Start->Programs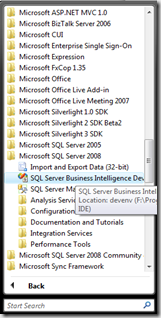 2.  Open the any existing SSIS package project and double click the package file.
     From SSIS menu, click Package Configurations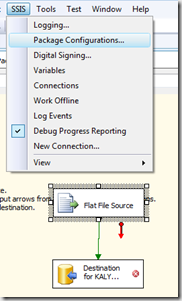 3. Following Configuration Wizard dialogue box will appear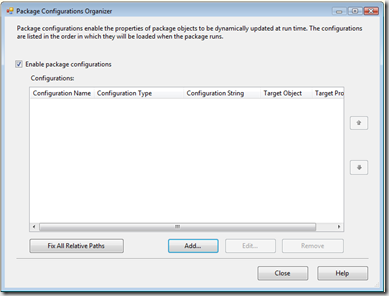 4. Select the Enable package configurations check box then Click Add button from above dialogue box then it opens the following window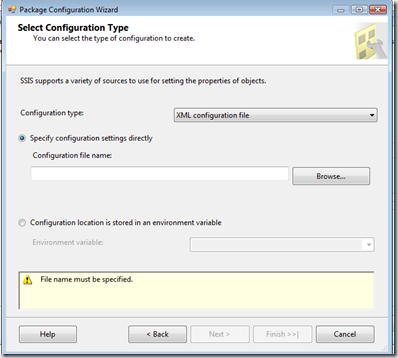 5.  From the above configuration type dialogue box, Specify the configuration type and then set the property types relevant to the configuration type.
Configuration type source can be
XML Configuration file
Environment Variable
Registry Entry
SQL server
Specify the configuration file name and then say next then you will get the following dialogue box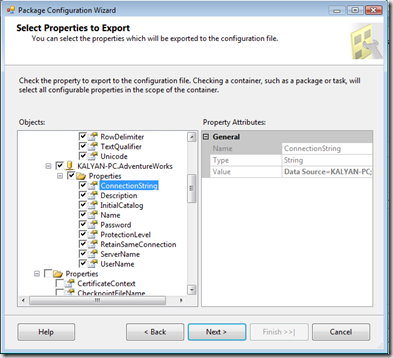 6. Select the properties of the package object to include in the configuration. On completing the wizard type the name of the configuration and then say finish.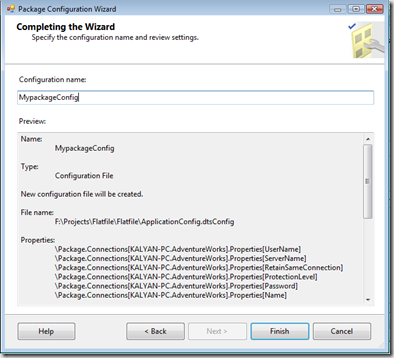 7. Open the above created configuration file with extension .dtsConfig.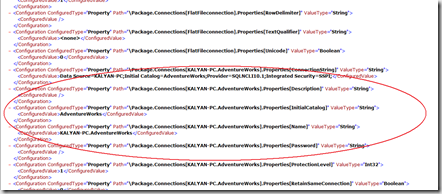 Update the connection string and other configuration parameters in the file after deploying the package to the server.
Configurations are included in when you create package deployment utility for Installing packages.