Introduction
Microsoft new extensions to the windows server code named "Dublin" which provides a hosting environment for both WCF and WF applications. Dublin is set of service management extensions built on top of IIS/WAS that will ship with windows server.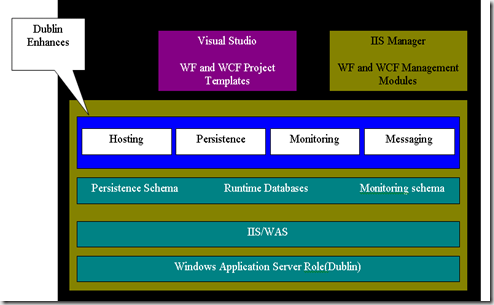 Source: MSDN
Key features provided by the Dublin include
Management support for durable services and long running work flows.
Dublin makes it possible to deploy an application to individual server across a farm.
"Dublin"  provides several runtime databases for service persistence and monitoring. Runtime components and services built on top of these databases which are part in the .NET Framework.
Microsoft has added numerous extensions to IIS Manager for performing various hosting and management tasks.
"Dublin" provide a runtime dashboard which shows running,suspended and persisted workflow instances.