Auto History is a Visual Studio 2013 extension which gives you the ability to rollback your changes that you made to the code before check-in to the source control. Auto History steps into the gap between source code control and undo stack. It provides no configuration just work on your machine based on local history stack. Assume you are editing a document in Visual Studio, you do not have to remember to check-in it saves the changes that you have made to the document and you can roll them back.
The bunch of events that you do like building and saving causes this extension to save it as a snapshot which kept on your local machine. This will last for 3 days. The extension is in preview state which can be downloaded from here.
Once you installed the extension, you can find the extension in Visual Studio under view menu –> Other Windows section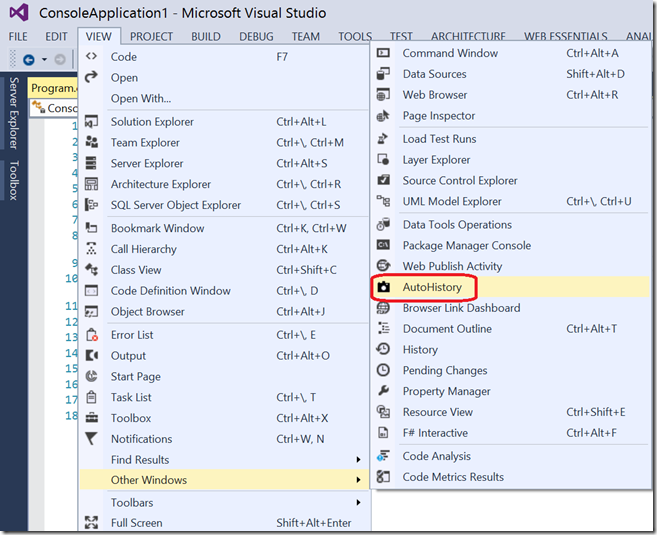 The Auto History window will appear as shown in the following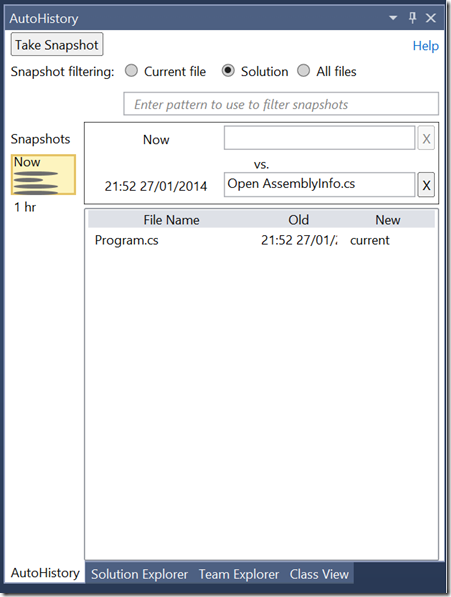 Each of tick mark that appear under Snapshots header are the events that occurred in the Visual Studio solution. All events are time stamped. You can slide the window over the events. The slide window tells you what file(s) have changed during that selected time-period.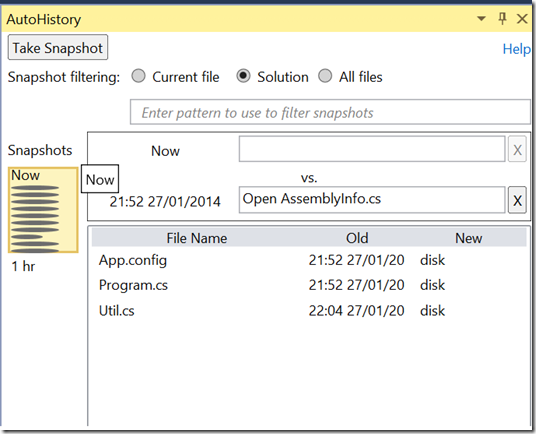 Now double-click the file that you want to see what changes that you have made then it opens the file in file compare window. It could be one line of code or a method, you can always go back and copy the code and paste into the current code file.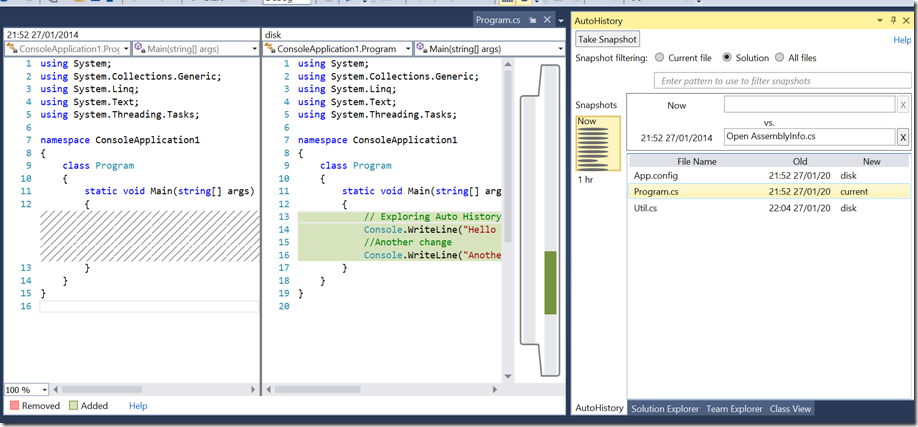 It will only track the files that you edited in the Visual Studio and saves them as snapshots to your local disk. It is basically about keeping your code! before it goes in to the Source code controller.
In real world scenario you might be having bunch of projects or files in your solution explorer and you might be only interested in one particular file then you can use the Snapshot filtering either on the current file or Solution or All files on the disk.You can use patterns to filter down your list. You can also explicitly take a Snapshot by just clicking on the Take Snapshot button. If you do not explicitly click the button then those were taken for every 5 minutes.
Note: It is not a replacement for your source control. It is something that stands in the gap between you and when you last checked-in.
At this point it just shows you what changes that you have made to the code. It is a manual rollback today.